How to Play Caribbean Stud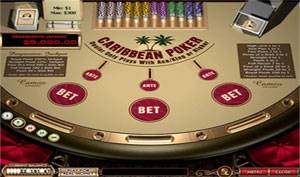 Caribbean Stud, or more formally Caribbean Stud Poker, has grown extremely popular in the past few years, and is now the casino game of choice for many players. It is gaining a huge amount of fans in online casinos and is a great table game, even offering players a shot at a progressive jackpot. To play the game you'll need to know the poker hand rankings, but unlike poker, Caribbean Stud Poker is played against the dealer,not other players. It's a fast game and offer hours of online entertainment, and most US friendly online casinos will allow you to practice playing for free.
How to Play Caribbean Stud Online
To begin the game you must place an ante bet, and then you'll be dealt five cards. The dealer is also dealt 5 cards and one of those will be face up. Next, you must make the decision as to whether or not to play the hand, and this will be based on the cards that you are holding, and the little information that you have from the dealer's face up card. One thing that you must keep in mind is that the dealer needs to qualify, i.e they must have at least an ace/king in order for you to receive a payout from the payout table on your hand, as if not you'll be paid even money on the ante, and the main bet will be a push. If you decide to fold at this stage, before making a bet, you will lose the ante and the game is over. Should you choose to play and believe that you have a better hand than that of the dealer, then your bet must be exactly twice the amount of you ante, for example if your ante is $1.00. then your bet must be $2.00. The dealer then reveals their cards and if they qualify and have a better hand than you, then you lose both the ante and your wager, however if you win you'll be paid even money on the ante and your wager will be paid according to the hand you have......
Royal Flush 100 to 1
Straight Flush 50 to 1
Four of a Kind 20 to 1
Full House 7 to 1
Flush 5 to 1
Straight 4 to 1
Three of a kind 3 to 1
Two Pair 2 to 1
All Other Hands 1 to 1
The Caribbean Stud Progressive Jackpot
The progressive jackpot bet is a little risky in this game however many people play it because let's face it, you just never know, and it is a little extra fun. To play the progressive jackpot you must bet make the wager (almost always $1.00) before the cards are dealt. The dealers hand is irrelevant in this side bet and to hit the jackpot you'll need to be dealt a royal flush, however you win a portion of the jackpot with either a flush, full house, 4 of a kind and a straight flush. You won't win on many hands, but when you do it is a very nice win indeed.