List Of Casino Games
There are many card games to be found in quality US online casinos and here we take a quick look at what's on offer. Remember that each online casino may differ slightly in what's available, and if you have a very specific casino card game in mind then it's always best to check before signing up and downloading the casino software.
Blackjack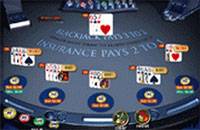 Blackjack is the most popular casino card game to be found online, and you'll discover that many variations of this classic casino table game are available. From Las Vegas Strip to Atlantic City rules, multiplayer, live dealer and more, you will find a huge array of blackjack games on offer in all good US online casinos. There are many card games that fall into the blackjack category too such as Pontoon, Match Play 21 and Perfect Pairs, however they all follow the basic rules of blackjack.
Baccarat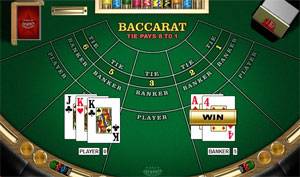 Baccarat is a stylish yet simple casino card game to learn and enjoy and offers an extremely low house edge meaning that it's the number one choice for many casino high rollers. With simple rules and easily placed bets, many casino card game players enjoy baccarat.
Pai Gow Poker

Pai Gow Poker is where East meets West and delivers a whole lot of entertainment. Played with a standard 52 card deck and an extra joker, with the aim being to create not one but two great hands and to beat the dealer. You'll need to make a five card hand as well as the best possible two card hand and take the cash. Pai Gow is fast and entertaining and can deliver big wins.
Let 'em Ride

Let 'em Ride is a fast and simplified version of poker where you need a hand containing a pair of 10's or better to win. You are dealt 3 cards face up and 2 face down and you need to keep your nerve when placing your bets unveiling your face down cards. Let 'em Ride is a great casino card game and many online casinos will also offer a progressive jackpot version.
Tri Card Poker

Many casino card game players will know the game of Brag, and Tri Card Poker is very similar to that. The simple aim of the game is to be holding the best possible 3 card hand and of course, to beat the dealer.
Caribbean Stud Poker

Caribbean Stud Poker is a very popular casino card game based on the classic game of stud poker. You are simply dealt your cards and you need to beat the dealer. Caribbean Stud is also a card game that many casinos will deliver with a progressive jackpot.
Casino War

Casino War is arguably the fastest casino card game there is to be found and the simple aim of the game is to draw cards that are higher in value than the dealers. It's fast and furious and when you go to War then hold on to your hat!
Red Dog

Red Dog is a little more complex than some casino card games, however it can be learned quickly and once you've picked it up then it provides plenty of excitement. You need to be dealt cards that rank in the middle of the dealers cards and the payouts in Red Dog can be as high as 11 to 1, meaning that Red Dog has big bankroll boosting potential.
Three Card Rummy

Three Card Rummy is a little like a strange variation of blackjack and the name gives away the fact that it's played with 3 cards only. The aim when playing Three Card Rummy is to create a lower score than the dealer with the 3 cards that you are dealt. To beat the dealer you must receive your cards and then match your ante bet to take a look at theirs.